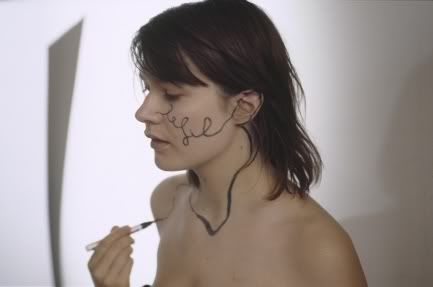 i've always had a fetish for french singers even though i don't really understand what they're singing about unless i look up the lyrics and rummage through my online french dictionary.
hehe.
but nonetheless, Camille's music has stunned me and i would most probably say that i love her as much as i love Zaho.
i was pretty much amazed by camille when i watched her do the whole one-woman musical instrument thing like the outstanding ovations from KT Tunstall and KAKI KING (omg splutter LOVE) but after a while i noticed that her voice was REALLY familiar. yet i couldn't put my finger on what it was...
but thanks to the wonderful invention known to the world as the internet, i found out what it was about her voice that have captivated me:
she was the voice behind the song "Le Festin" for the Disney Pixar's movie Ratatouille! : D
aahh camille, je taime! : )
New Love #2 - The Age of Rockets
came across this new band from the website of one of the recod label companies that allowed me access to the newly-signed musicians and their music. : )
out of all the newbies i'd say that The Age of Rockets is DEFINITELY the best. if you're into the likes of Frou Frou, Bright Eyes or James Figurine, then this band is a must-have.
Elephant & Castle - The Age of Rockets
New Love #3 - Kathleen Edwards
i stumbled upon this woman when i received a shared message on imeem.com from the lovely and talented Missy Higgins.
missy had shared a playlist with all those on her imeem contacts and as i went through all the music on the list, i discovered kathleen.
there, right smack on the list.
i've always loved women guitarist who make wonderful music, and edwards is definitely a new addition to my list of favourites. her song "Asking For Flowers" is amazing and soothing at the same time.
if you're a big fan of shawn colvin or aimee mann, then try out kathleen's music. i promise that you won't regret it. : )
Asking For Flowers (Amazon Exclusive Version) - Kathleen Edwards